Chase Reports

Summer 2002/03

Summer 2001/02

Winter 2001

Winter 2000

20/06/00 - Winter chase, 3 Tornadoes

Summer 1999/2000

20/02/00 - Thundery showers in Perth

Jan 4-14, 2000 Dust Devil Paradise

24/12/99 - Christmas Eve Chase

29/02/99 - Chase North East, nice storm with gust front

11th,12th,13th/12/99 - Chase's to Perth coast, Bindoon & Toodyay

02/11/99 - Nice chase to the wheatbelt with numerous CB's & some great mammatus

Winter 1999

Summer 1998/1999

28/11/98 - Dowerin Tornado & chase

Winter 1997/1998

17/04/98 - I chased & saw my first tornado, 2 supercells an awesome wallcloud & 1-2 inch hail

Winter 1997

05/09/97 - 5 tornadoes in WA in 36 hours

Summer 1996/1997

05/11/97 - Not a bad storm, another funnel
Chase Report for November the 2nd 1999.
The day started out with a trough forming down the coast and the night before all looked good for a possible chase. LI's were about -2/-4 in the target area, CAPE was up around 800-1000kg and dew points were about 15 which is borderline but still plenty. The only thing really lacking was a good shear environment, It was Easterly on the surface and westerly at 700 which is perfect for us but it just wasn't strong enough. AVN the night before was saying there would be 20knts of shear which normally would produce supercells, but it never happened. Still Mike Fewings and I headed off at about midday. We headed north out of Perth and drove past some nice CB's that did look okaish but seemed to be more on the decaying side of things. We knew conditions would be much better further north. Target area took us about 2hrs to acquire. When we got there, there was updraughts going up everywhere and although some cells were on their own the main line of cells was a mulitcell type setup. There was no problem with new growth at all, heaps of new updraughts took over from old ones. We stopped to take some pics and continued on to what looked like the best storm. Once we were out there we could see a distinct lack of shear, it just wasn't happening. Once we were in a position to see clearly, it was pretty awesome. This huge CB with an anvil stretching several hundred kilometre's with mammatus all over it. As per usual the pics do it no justice, it was huge. You can see on the sat pics that it was easily over 500k's long. Under it was just a great big line of cells some with multiple updraughts. We got into a good position to watch the show and started to see some nice CG's. By this time we were NW of Moora. The cell on the very western edge was the best and that showed up later on the radar as well. At about this time I was cursing the shear god whoever he may be. This cell we were in front of had awesome growth and we watched about 4 new updraughts form and die. If it was rotating it would have been great. Oh for a meso. On about the 3rd updraught it did seem to be turning some and at one point we pulled over as a lowered section came down! It formed very quickly and did rotate clockwise for about 10-15mins. It was right under the updraught. Naturally we were quite excited as we were in perfect position and the rotation was easy to see. After some hooting and hollering the wall cloud disappeared. Don't ask me how Mike gets such wicked lighting photos cause it took him about 5mins to setup his medium format camera to get one shot! I was going Mike, Mike look at this! he's going yeah yeah hang on.......... Mean while I'm banging my shutter button away like its a machine giving out free meso's! We decided to move closer after the wall cloud died. We got ourselves just south of the action and just watched the show. We could see multiple cells, heavy rain and the huge anvil with mammatus all over it. After about an hour most of the heavy rain died and we moved in under the anvil. We stopped at several points to take pictures. We basically headed north and did a big loop to come out on the other side of the anvil. To the north we could see more CB's going up and also to our east. We stopped at Badgingarra roadhouse and took some nice pics of a cell there. The stuff north was too far to go after and later we found out it was about 4 hours drive away. We decided to head back to perth as most cells were now dieing. So all in all a great chase. It would have been unreal with some shear thrown in. With so many cells around tornadoes would have been a good chance. I said to Mike at one stage that if there were supercells we would have ended up about 1000k's inland and 200k's north of Kalgoorlie as that's where they were headed. I saw the best mammatus I've seen yet and some great CB's. We were pretty much where the best action was all day and its great to get home from a chase and not regret any moves we made. So Mike and I were very happy!
The pictures below are in order as we saw them on our chase. Click on a pic to see a larger one.
Below are the navy satellite images, at 6:30utc, 8:30utc and 9:30utc. It shows the storms up very nicely. I've cropped em to show the area we chased in.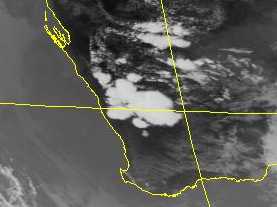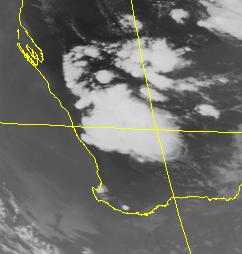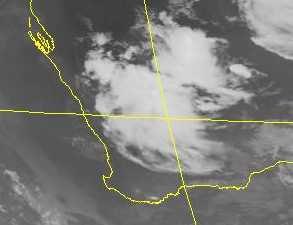 Area covered during the chase below, shown in blue. Total distance of approx 500k's